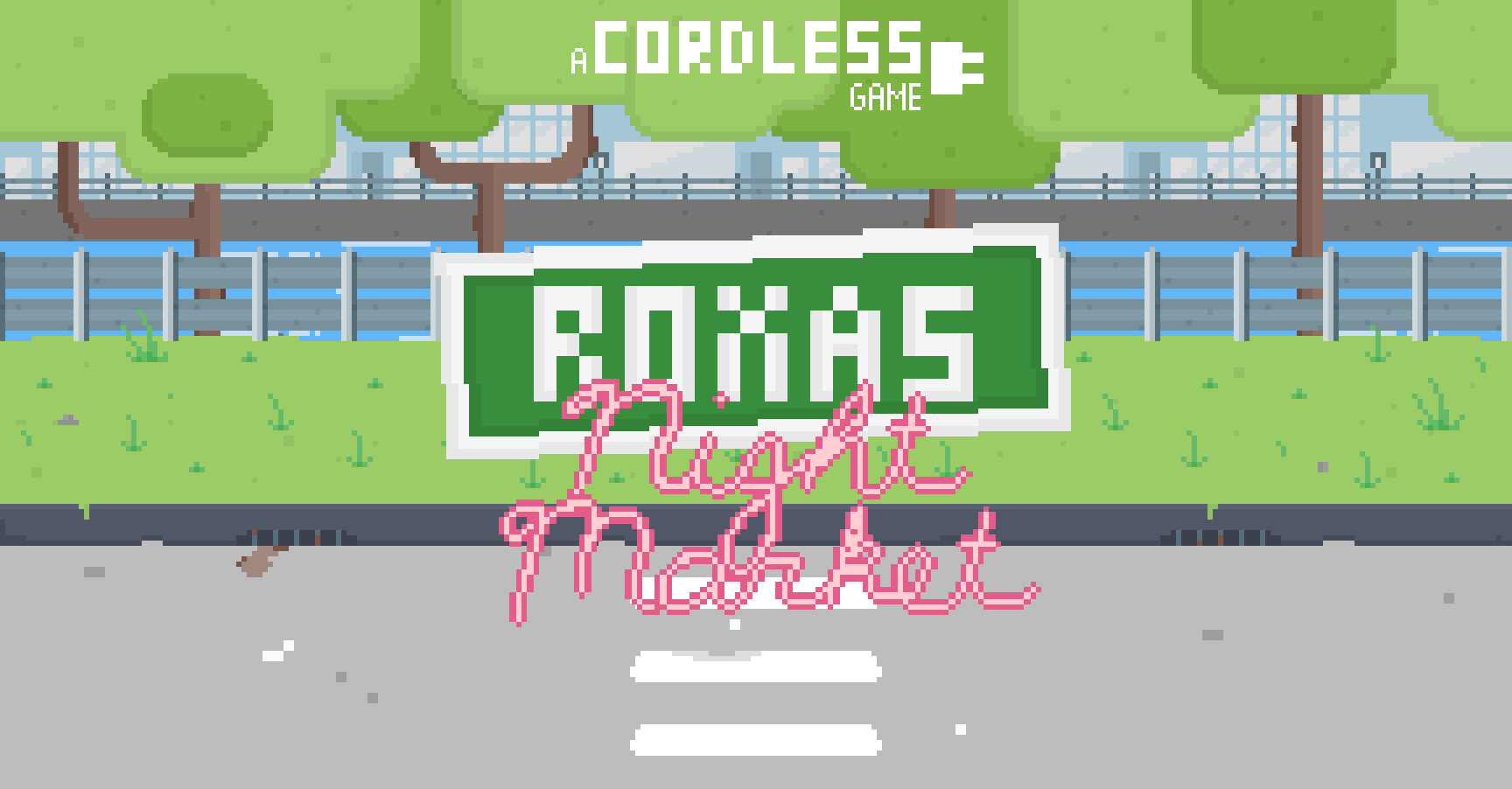 Roxas Night Market
Roxas Night Market is a relaxing pixel-art tycoon game set in the streets of Davao City, Philippines. The city's mayor sets you on a task to make Davao's very own Roxas avenue into a bustling night market.
Buy stalls. Upgrade and restock them. Unlock unique customers. Do everything it takes to make Roxas avenue the best night market ever!
Download
Click download now to get access to the following files:
Roxas Night Market v1.0.2.rar
10 MB
Also available on

Comments
Log in with your itch.io account to leave a comment.
Hey Spoonage! I think you're playing on version 1.0.0. It's bugged so you cannot win! Version 1.0.2 has it fixed. Thanks for playing though :D

Nice game. I accidentally started the day without doing any kind of re-stocking. So while we might not stock to full, which is intentional by the player, I think if "re-stock" was not picked at all, maybe the game could give a warning. As well as keeping the choice of fast or slow speed throughout the different nights that the game runs.

Those are simple suggestions but they do really make things less repetitive (by not clicking speed up everytime) and user-friendly (giving warning when not restocking). I'll keep those in mind when making the updates ;). Thank you for playing!
I love the game, but the mid-late game does get a bit boring after all the stand areas have been filled, even after I replace a few of the less profitable stands.
A fill all the stocks button would be a great idea especially when you only have like 1 or 2 stock left.
As well, when the days themselves ending it would be great if either the day waited for all the customers to leave to end or the customers stopped spawning at like 11:30pm because the day will end and some of the stands that have yet to run out of stock still have lines of people to sell to...especially if it's one of the stands with 1 stock left that is cut off in mid-purchase by the day ending.
Also, the little +[Amount] pop-up that appears next to the amount of gold you have becomes rather useless when you reach 3-4 stands because all the profits overall each other into a green blur of unreadable numbers. It's great for making someone feel like they're making a lot though XD!
There was also a time the Isaw stand when into -1 stock. No idea how it happened, but it did.
The game overall is quite lovely though!
Also - Hiya tigidig. Had to google it, but nice
EDIT: Oh, and as an after thought, because I know a bunch of people were recommending new customers to spice up the end game - it'd be funny if the ever-so mysterious source of the red blinking sewer eyes decided to come buy some Isaw or something XD
EDIT 2: I just finished it and now I'm silently raging when she returned only to say the market wasn't as profitable as she wanted it, considering I had ~30,000 gold just sitting there as I was just going through the motion the last view days and she's like, "Oh the net value is only like 19,000, that's not good enough. If she said a goal value, I completely forgot, and I couldn't exactly tell the net value (or maybe I missed something that said it, dunno). I don't have the patience to go through the game again for the sake of trying to get it above whatever profit she wanted (assuming it's like 20k or something?). The gameplay itself, I still did enjoy mostly though.
Thanks misstify!
I plan on updating the game though with all these suggestions in mind.

And yes, the late-game can be a bit underwhelming and get a bit boring (and the ending is rage-inducing if you lose)! I'll also probably add some statistics page in-game so the player can track if he/she is winning and add some more unlockable items/customers to help make the mid-late game interesting or even add some replayability value.
I'm glad you enjoyed it!
This game is funny, yeah. Untill day 80 or 70. After that the only thing to do is to replace stands and upgrade them but, I feel like it needs some changes. First of all it would be awesom if there was a "Fill all the stocks" or something like that, to avoid being too much time filling them yourself (it takes a few seconds, but they feel like hours). Then we have the end. I imaging that to complete the game you need like or very expensive stands or make a lot of money in overall, so the fact that I've been jumping days without anything in stock may have affected. As I said there's not much to do after you complete all the construction spaces or seen all the stands. Few more customers, stands and may be challenges (like, you need to purchase something before a day, or a special customer has to be satisfied or something) will make the game more enyoilable in the mid-late game. However, I have had fun with it and is great to be able to say what I think after more than 1 hour in high speed and after 100 days. I haven't seen much bugs, just one, the stock of a stand appeared -1 so...
One thing more: the stands are very balanced and the type of customers too, something that is very good to see in a tycoon.
Great game, anyways.
I really appreciate that feedback Legolas! I'll try to update this game in the future to make restocking easier, and make the late game more interesting.
I'm glad that you had fun with it though and that you found it balanced (I really wanted it to be that way!). So thank you for that!
I enjoyed it a lot! I played through all 100 days on a livestream. I enjoyed the early and mid game but toward the last 30 days I felt like there wasn't much more for me to spend my money on or manage. Adding some new customer types that unlock throughout and also some new, even more expensive stalls toward the end would help alleviate this. Perhaps more upgrades for the stalls could also help. I also think a button to restock all stalls at once to their max would be a nice addition. Regardless, I had a fun time! Looking forward to what's next! :)
Thanks NLaigis! I am really glad you had a fun time with game. Yes, I agree that there really isn't a lot going on in the late game. I'll make updates in the future to add more stuff to make the game more interesting!
By the way, I'm really sorry that you lost though. There was definitely a bug which I will be fixing. I would just like to confirm though that you definitely should have won that game in your stream!
No worries! I found it more funny in retrospect than fustrating! Made for a fun stream moment too. :)
I instantly fell in love with this game as soon as I started playing it. I've always loved games where you start out as a samll business and need to purchase upgrades and meet your supply with your demand and this game is no exception. I can't wait to play more and I would definetly reccomend this to anyone who likes these types of games. You've really got a good game and I hope that you continue to improve it with updates.
Thank you that great feedback Mutant Gamer! I'll definitely make some more updates for this game in the future!